Français
The Waban-Aki (Abenaki), children of the ash
"According to Waban-Aki legend, the ash tree is the source of life.
For us, it's a sacred tree."
Monique Iles-Nolett, Waban-Aki
Basketmaking as a livelihood
"We were about 10 years old when we started helping our mothers after school and evenings. The baskets were sold on Friday afternoon and then we went grocery shopping. Saturdays were for housework, and my mom dyed the ash. Sunday was a day of rest. The whole house was given over to basketmaking—there were lengths of ash, baskets, and splints drying everywhere. We worked in the summer kitchen. I loved those times, talking with my mom while we worked together."
Monique Iles-Nolett and Annette Nolett, Waban-Aki (Abenaki)

The Waban-Aki (Abenaki), Kanien'kehá:ka (Mohawk), Huron-Wendat, Mi'gmaq, and Wolastoqiyik (Maliseet) made their livings from basketmaking. Techniques originally developed to meet the needs of their nomadic and semi-nomadic way of life were adapted to please tourists, and basketmaking became a livelihood.

Once Americans developed an interest in basketry, artisans began traveling the northeasten United States to sell their wares, taking their ash splints and freshly harvested sweet grass along so they could keep producing baskets wherever they went.

"My mother used to make ash baskets and gather sweet grass. It was her whole life when she was young. The Wolastoqiyik (Maliseet) made magnificent ash baskets that local farmers would use to carry potatoes."
Anne Archambault, Wolastoqiyik

Potato baskets made by the Mi'gmaq and Wolastoqiyik (Maliseet)) were sturdy and practical for fall harvests. Along with baskets, both groups were known for producing bark boxes and containers decorated with porcupine quill embroidery.

The Kanien'kehá:ka (Mohawk) not only produced exquisite baskets for sale, they also made corn washing baskets for corn boiled with wood ash. These baskets had solid sides and an open-weave bottom so the ash and debris could escape.1
1Source: North by Northeast, Kathleen Mundell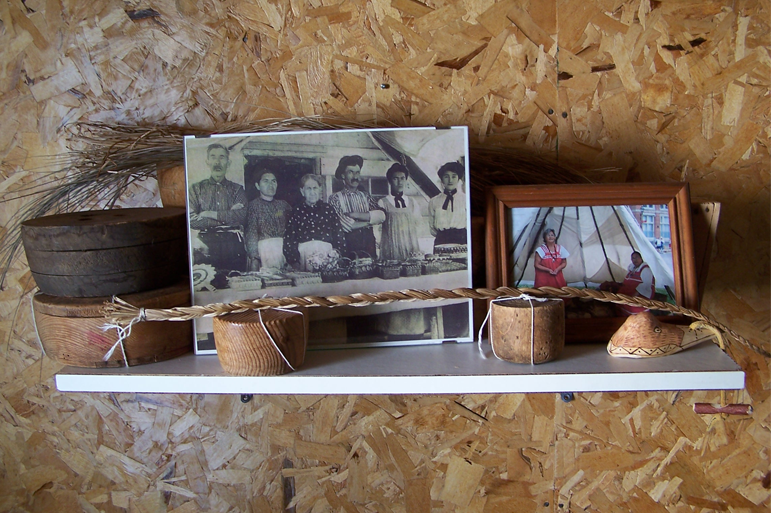 Workshop of Annette Nolett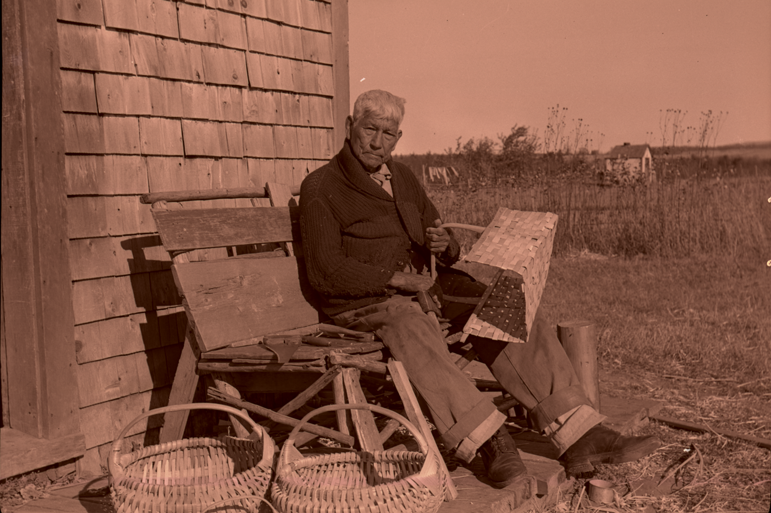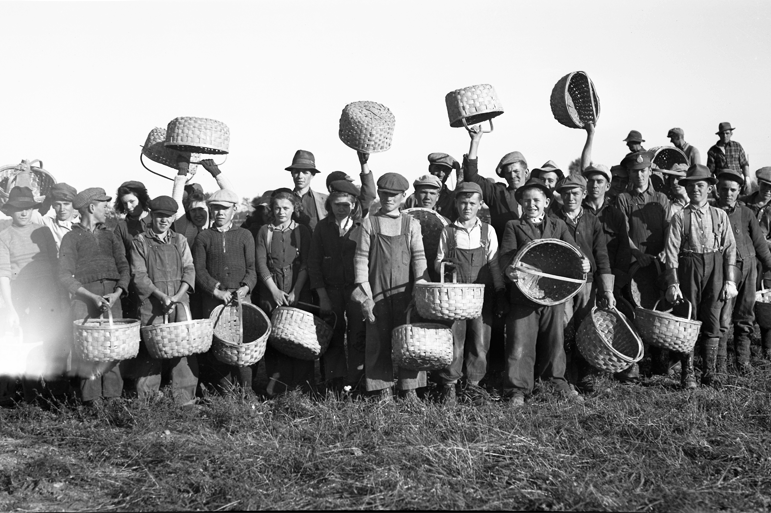 1. A Mi'gmaq from Gesgapegiaq making baskets, in 1949.
Photograph : E.L. Désilets
BAnQ, Centre d'archives de Québec, E6,S7,SS1,P73791

2. A group of young potato pickers at P. E. Robitaille, a grower in Saint-Lambert on the south shore
of Quebec City. Each worker has a basket made of hardwood strips.
Photograph : François Fleury, 1943.
Collection : BAnQ, Centre d'archives de Québec, E6, S7, SS1, P16121
Birchbark containers and other uses
Before tourists discovered them, birch bark containers were everyday items for many nomadic peoples. The Atikamekw Nehirowisiwok and Anishinabeg (Algonquin) of southern Quebec used to collect maple sap in the springtime and keep the precious liquid in bark containers. They also used bark containers to gather berries, as did the southern Innu, whose territory abounded with birch trees.

Groups that engaged in fishing used bark containers to store fresh trout, wrapped in ferns and sphagnum moss.

Moose calls, drinking cups, feast dishes, and head straps for portaging are just a few examples of how Quebec's aboriginal peoples used birch bark.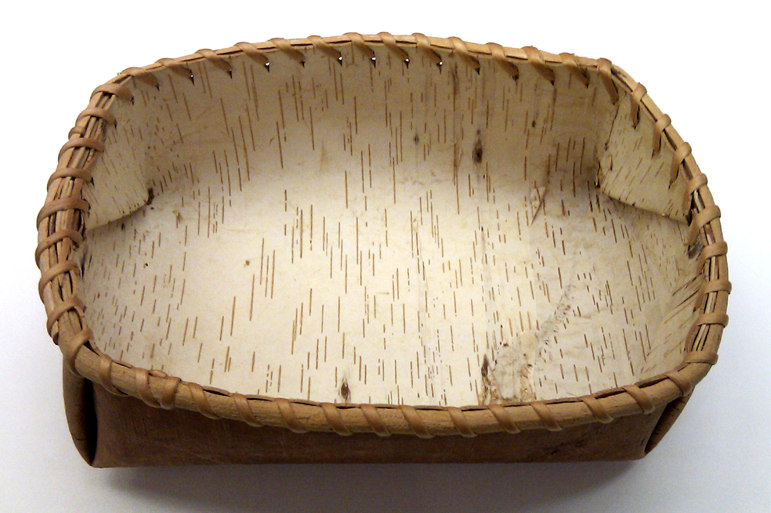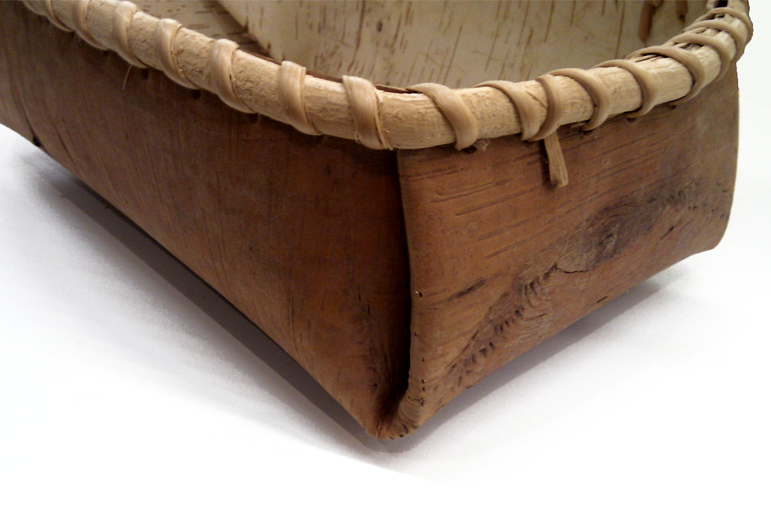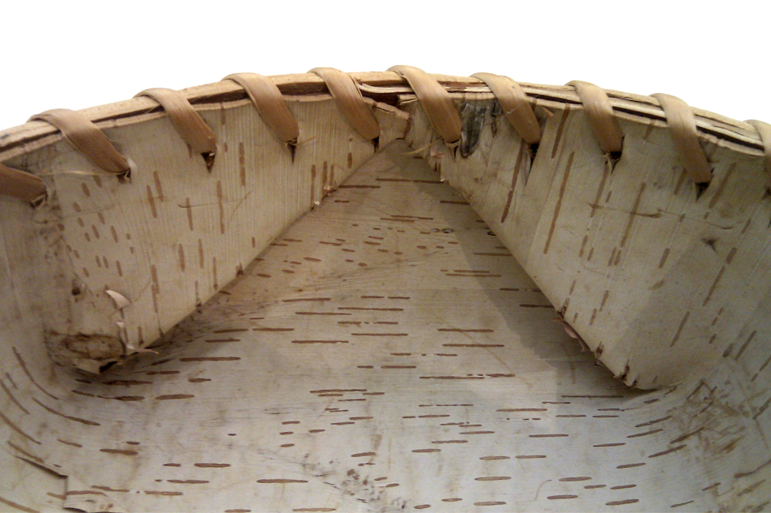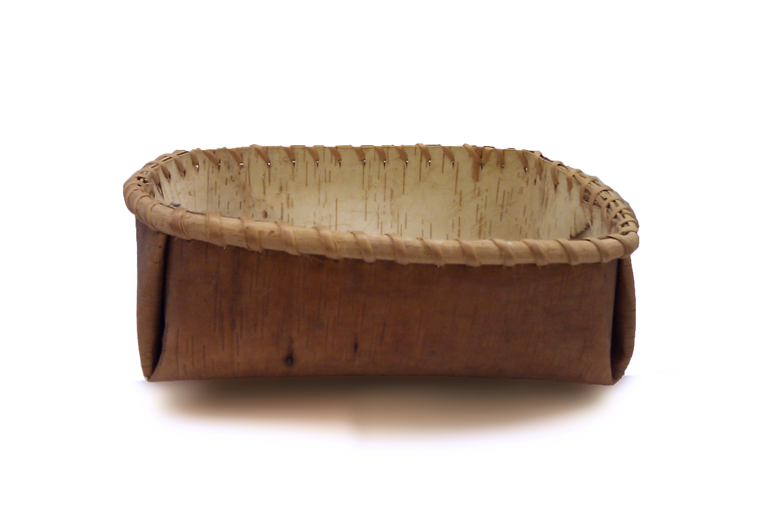 1.-4. Birchbark container for collecting maple sap
Edmond Dubé, Atikamek Nehirowisiw
Photographs : Sylvain Verreault
First Nation Garden in Montréal Botanical Garden Collection