Français
Inspired contemporary creations
Louisa Rock, Innu
Louisa's artwork is immediately recognizable from her signature use of fine embroidery and beautiful colors. Her parents were her mentors, transmitting their vast knowledge of the craft and skills to her. Louisa in turn teaches knitting, sewing, and embroidery during intergenerational meetings. She is also very involved in her community and has a reputation of being extremely helpful and giving.

Diane Blacksmith, Ilnu
Diane Blacksmith has been practicing traditional crafts professionally since she was 12 years old. Her work draws on both community tradition and techniques handed down from her ancestors through her aunt Hélène Blacksmith, who taught her. Her use of primary colors and their contrasts lends her work a vivid power and brings out fine detail. Flowers are a recurring theme in Diane's work.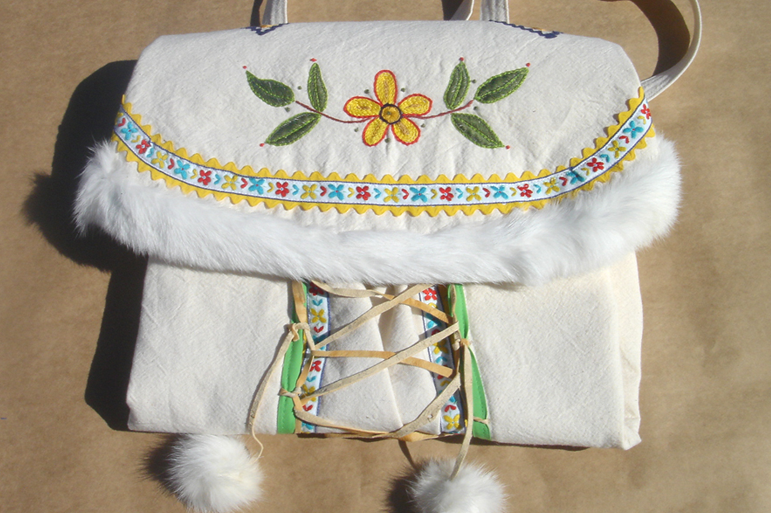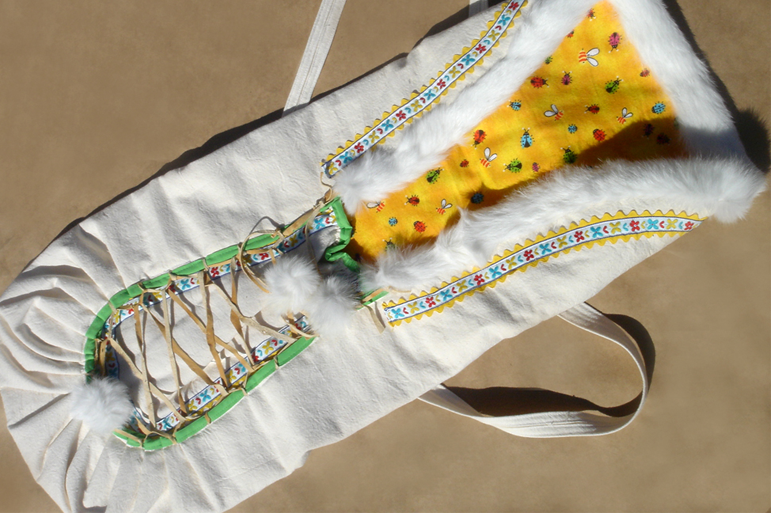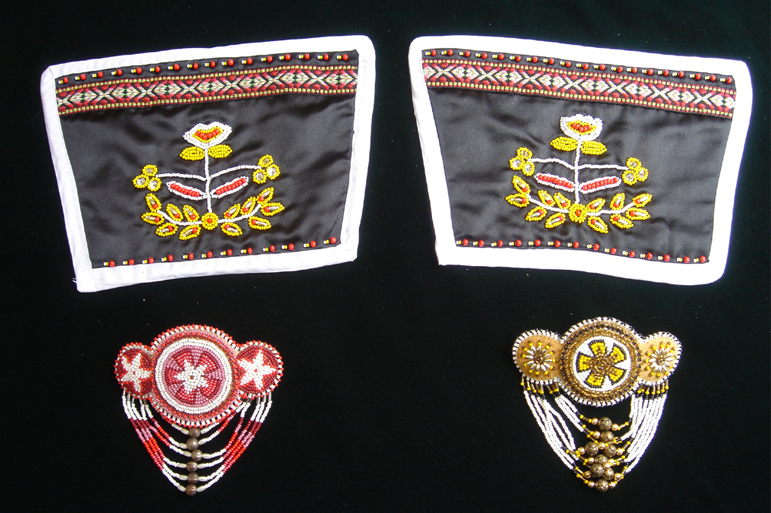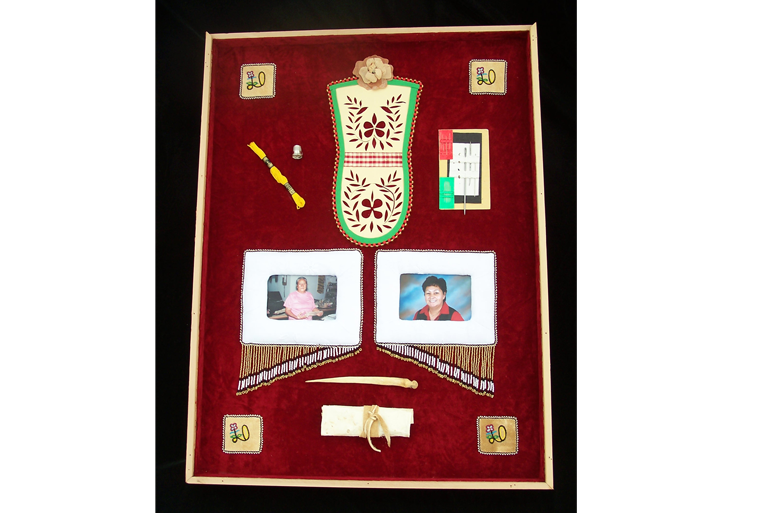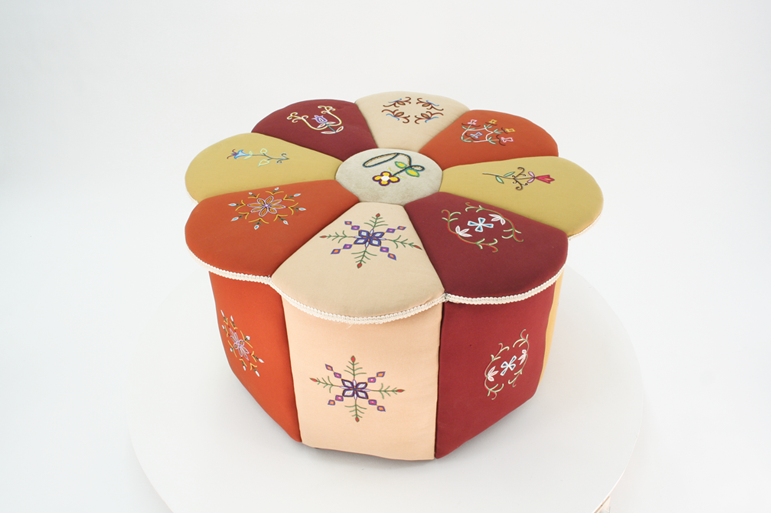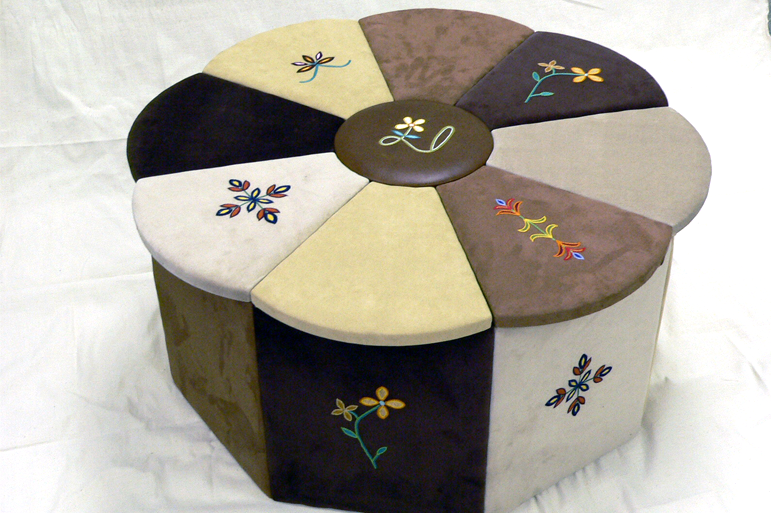 1-2. Baby carrier purse
Louisa Rock
Embroidery thread, rabbit fur, cotton canvas
Photographs: Cindy Cantin and Jean-François Vachon
La Boîte Rouge vif archives, 2008

3-4. Display case for the patterns of Hélène Napané Blacksmith, Diane's aunt
Diane Blacksmith
Canvas, embroidery thread
La Boîte Rouge vif archives, 200.

5-6. Pouf
Diane Blacksmith
Photographs : Jean-François Vachon
La Boîte Rouge vif archives, 2008
Working in alternative materials
The Nehirowisiw Arts Cooperative is a social economy enterprise for artisans from the three Atikamekw communities of Manawan, Opitciwan, and Wemotaci. Deforestation has made it hard for craft workers to get bark and moosehide: the two most important raw materials for Atikamek crafts.

In summer 2011, a series of design and innovation workshops were held to encourage coop members to explore alternative materials.

Anita Biroté is an artisan from Wemotaci who makes moosehide moccasins using methods handed down from her mother and ancestors. To get around the shortage of moosehide, Anita designed a series of moccasins made out of other materials such as canvas and worsted. To save on raw materials, she also designed a moccasin in a more spartan style.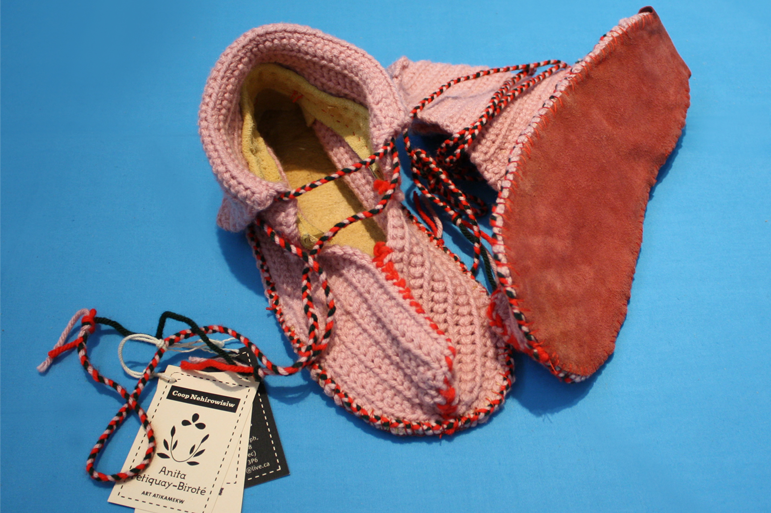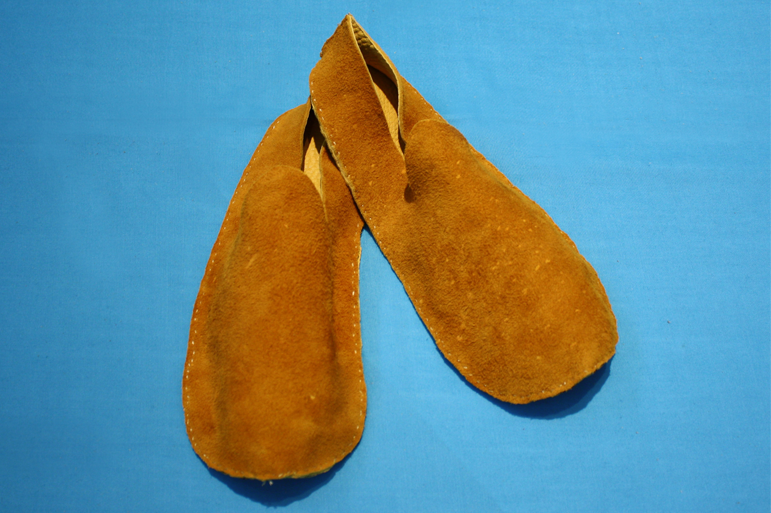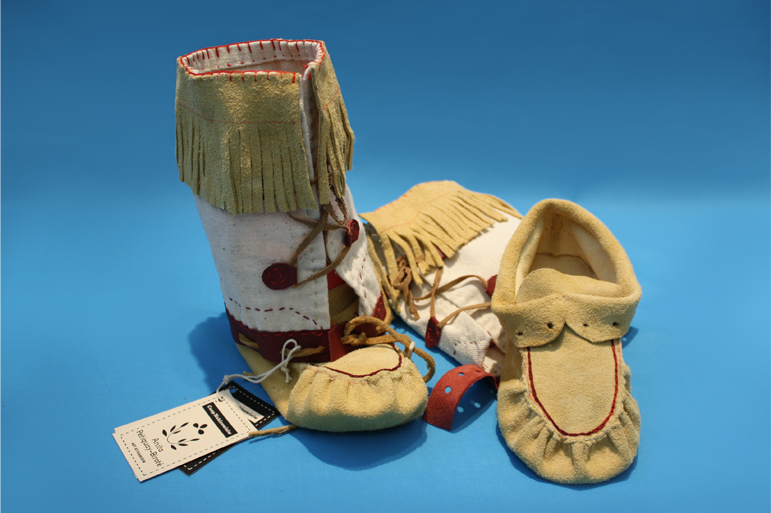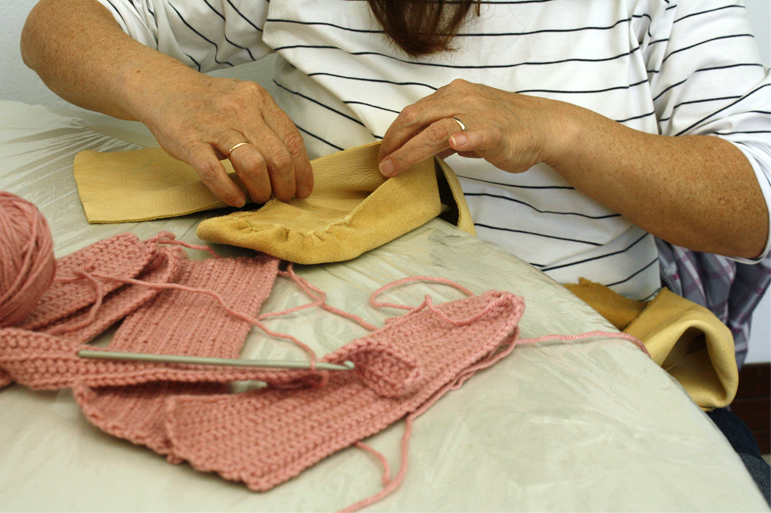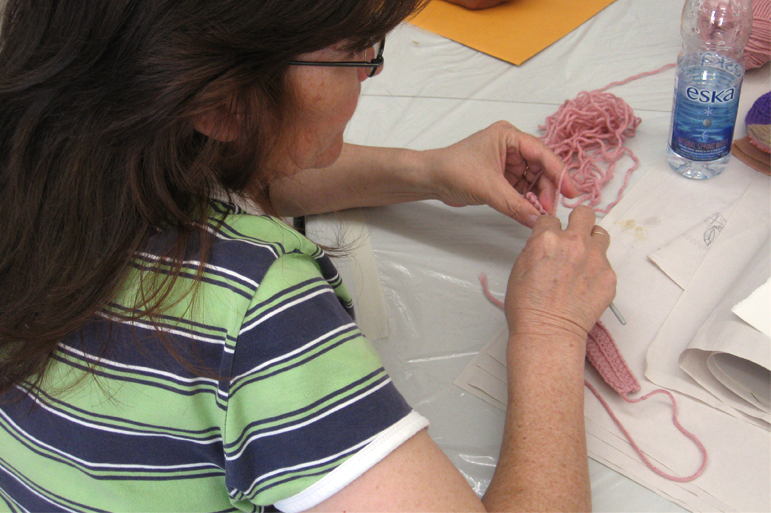 1-6. Miro pikekinikisin – confortable moccasin
Anita P. Biroté, Atikamek Nehirowisiw
Leather, fabric, wool
Photographs : Renata Marques-Leitao
ARUC Design et culture matérielle archives (La Boîte Rouge vif), 2012
Heritage workshops
Pimuteuk kamikuatsh meshkanau (Walking the Red Road) came out of the E nitau massinitshanutsh (Art of the Moccasin) cooperative exchange. It involved a workshop that incorporated the idea of sharing know-how, first to preserve traditional moccasin-making and decorative practices, and more broadly to take an active part in keeping traditional crafts alive. Two sisters, Diane and Johanne Blacksmith, shared their moccasin-making expertise with a group of women seeking to learn and nurture their own creativity through exposure to the tradition.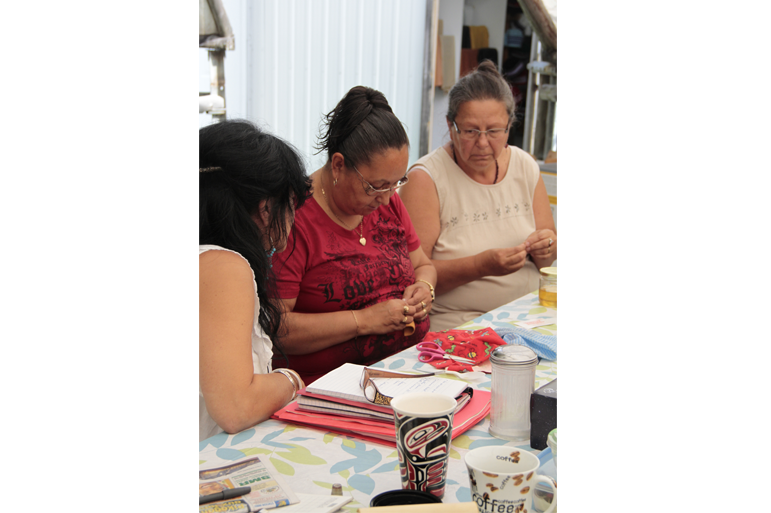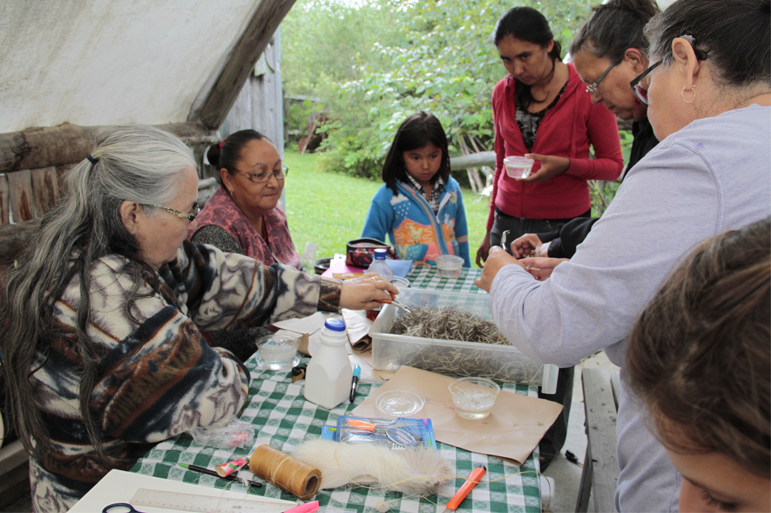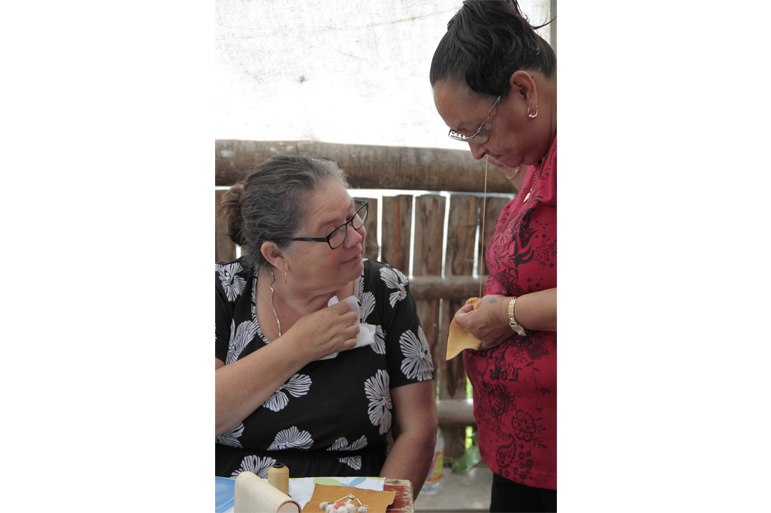 1-3. Thérèse Raphaël Bégin, Diane Blacksmith, Leiticia, Cynthia Bégin, Thérèse Godin and Maude Connolly
Collaborative Exchange workshop "L'art du mocassin"
Photographs : Lyse Emond
La Boîte Rouge vif archives, 2012-13.